Some most mornings I wake up craving chocolate. Not sugary, milk chocolate (no offence, Hershey), but deep, rich, dark-as-night chocolate.
The idea of chocolate for breakfast may initially conjure up the image of S'more pop-tarts (my childhood affinity for the marshmallowy toaster pastry still lingers), or a mound of ever revered Cocoa Puffs, but today (pop-tarts are scheduled for tomorrow) I come bearing a very, very different picture.
For starters, this granola doesn't reside in a creatively marketed cereal box; there are no flashing, colorful lights, and (much to everyone's dismay) no cute, anthropomorphic animals, bound to woo you and/or your young child.
Instead, this granola stands alone, simply and soundly, stripped of the marketing gimmicks, and highly-processed, suspicious ingredients, that the rainbow colors and animals are intended to distract us from in the first place.
I'm still a somewhat impressionable kiddie-at-heart (aren't we all?); snagging a mere sight of a box of Lucky Charms still makes my eyes pop, and the thought of a cereal bowl crowded with the lightly neon colored marshmallows still manages to rev me up with excitable energy. It's as though anticipating eating sugar produces the same effect on me as actually eating it.
If artificially-colored sweets still make you swoon, but you're also trying to nudge your taste pallet in a healthier direction, having a big jar of this oober chocolatey granola on hand will serve as a daily blessing.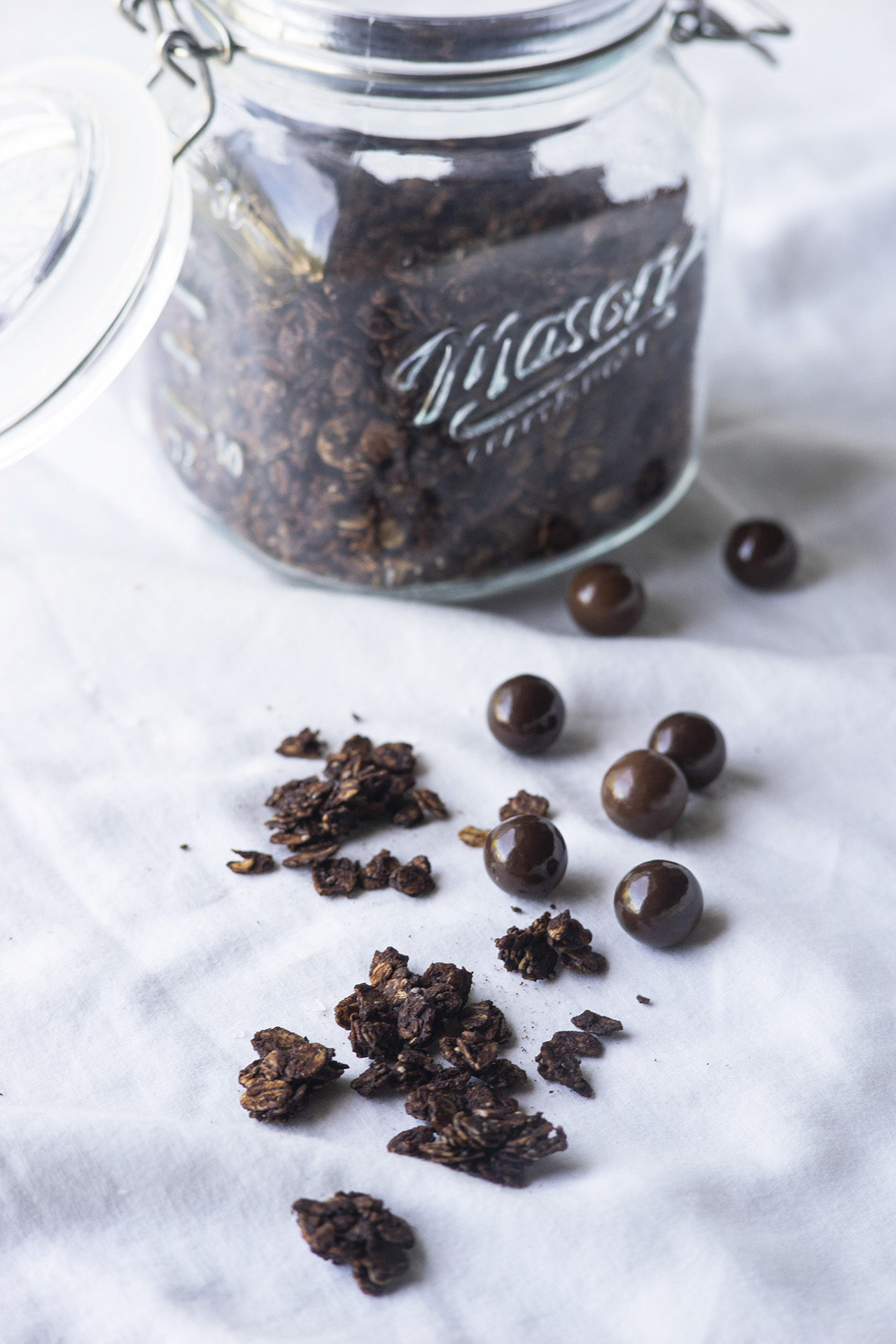 Lightly sweetened with maple syrup (or insert whatever liquid sweetener you have on hand here), and richly flavored with a generous amount of cocoa powder, this granola is the answer to my late-night, chocolate-obsessed, prayers.
Oh, and don't forget to (obviously) topped things off with a ~few~ generous sprinkles of flaky, crystallized sea salt. (Maldon, you are a chocolate-lover's savior.)
Sweet, salty, chocolatey, but also strangely healthy (?), this granola helps keep me grounded when both the Trix rabbit and the Lucky Charm's Leprechaun are trying to ensnare me in their deceitfully delightful traps.
Ingredients
3 cups traditional rolled oats (ensure gf if necessary)

1/2 cup cocoa powder

2 tbsps ground flax seeds (flax meal)

2 tbsps chia seeds

1/3 cup unrefined coconut oil, melted

1/2 cup maple syrup (add more to taste if you'd prefer more sweetness)

1 tsp vanilla extract

1/2 tsp kosher salt

To finish

1/2 cup chocolate chips or roughly chopped chocolate! (~70% cocoa)

~1 tsp flaky sea salt, such as Maldon (add to taste)
Instructions
1
Preheat oven to 340 F. In a large bowl, combine the oats, cocoa powder, salt, and chia seeds. In a separate, small bowl, whisk together the coconut oil, syrup, and vanilla extract. In 2-3 batches, pour the liquid over the oats, stirring well to ensure the oats become evenly covered.
2
Line a baking sheet with parchment paper (or lightly oil it), and spread the oats out into an evenly distributed layer. Press down with a spatula to make the granola stick together better; doing so will encourage larger chunks to form! Bake in the middle rack of the oven for 10-12 minutes, before removing and lightly flipping over large sections. Continue to bake for a further ~9-14 minutes, until noticeably toasted but not burnt (keep a watchful eye).
3
Allow the granola to fully cool before stirring through the chocolate and adding a finishing pinch of flaky sea salt (it will also gain more crunch as it cools down)! Store in a tight container for ~1-2 weeks.
Notes
Recipe inspired by/adapted from The Minimalist Baker's salted chocolate granola recipe, which was inspired by Pure Elizabeth's store-bought granola!