This one is a mouthful; sunflower seed butter confetti cake blondies. Despite the convoluted name, these blondies are super easy (and cheap!) to make. 
For starters, you'll need one big bag full of sunflower seeds. Nope, not to feed any birds (unless that's your thing, of course). But to make a batch of thick and butterscotchy blondies!
At only ~$2-3 USD per pound, 3 1/2 cups of sunflower seeds (which weigh in at… *drumroll*… ~1 pound!) should only cost you ~$2-3 (that's ~$3-4 AUD for just under half a kg, or ~450 g, of seeds).
Plus, if you're lucky enough to have bulk-food bins at your local grocery store, you'll probably be able to shave off a couple more dollars. Buying seeds (as well as nuts, flour, and dried fruit) in bulk at a wholesale marketplace is another way to save more $ in the long run. 
The fact that these tiny, inexpensive seeds compose the bulk of these flourless blondies makes this one exceptionally tight-budget-friendly dessert! 
No obscure, expensive ingredients needed. Just some good ol' seeds, eggs, and sweetener, and you're 99% there. (Seriously).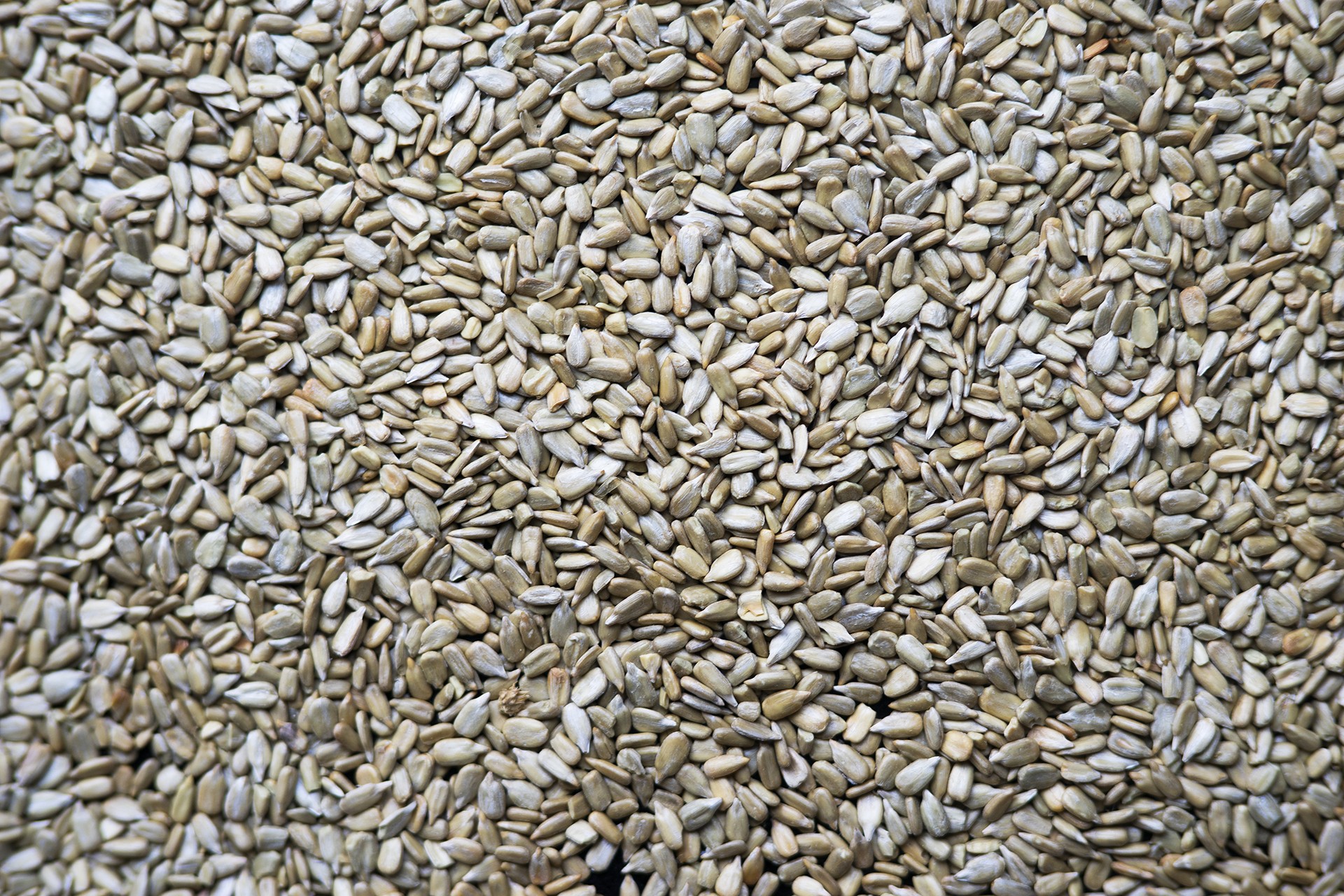 There is no flour in these blondies, meaning they are paleo-low-carb-gluten-free-what-have-you friendly. However, more vital than the aforementioned labels, is the fact that they are actually taste-bud-friendly.
Sunflower seeds may seem like an odd ingredient to add to blondies, let alone to use as the bulk of the recipe, but, well,… to be totally honest, I don't know how to provide satisfying closure to that thought. 
The truth is: yes, sunflower seed butter blondies has a strange ring to it. But just think of it as the close cousin of nut butter blondies, a similarly flourless baked treat that has been popping up everywhere on the Internet and Instagram. 
If you also have a monstrous sweet tooth, if fudgy brownies and slightly-undercooked, chewy chocolate chip cookies make you swoon, then these blondies will very likely definitely make you very, very happy. 
The seed butter acts as the structural cement (since there is no gluten or butter in the mix), while the two eggs help bind the ingredients together, and transform the rather dismal looking sheet of grey goo into a sufficiently puffed-up, blondie-esque treat!
The tiny price tag and unique, nutty (or should I say seedy?) flavor is not the only reason sunflower seeds are so super.
Perhaps more noteworthy is the fact that they offer a powerful punch of Vitamin E, an antioxidant that is mainly found in foods rich in polyunsaturated fat (such as nuts, seeds and seed oils, and avocados). 
It's estimated that 90% of American men and 96% of American women do not get adequate amounts of Vitamin E in their diets (!!). 
What's more, according to a 2015 study carried out at the University of Oregon, one of the negative consequences of Vitamin E deficiency may be the inability to properly process Omega-3 DHA, an essential "building block" in the brain. 
In other words, keep eating fish, and popping fish oil or algae-based Omega-3 capsules, but also try to incorporate a few handfuls of nuts and seeds (or generous drizzles of their oils) into your daily meals.
Oh, and with ~5.73 mg Vitamin E per slice (that's ~38% of an adult's RDA), this blondie can easily help you rack up those much-needed Vitamin E points.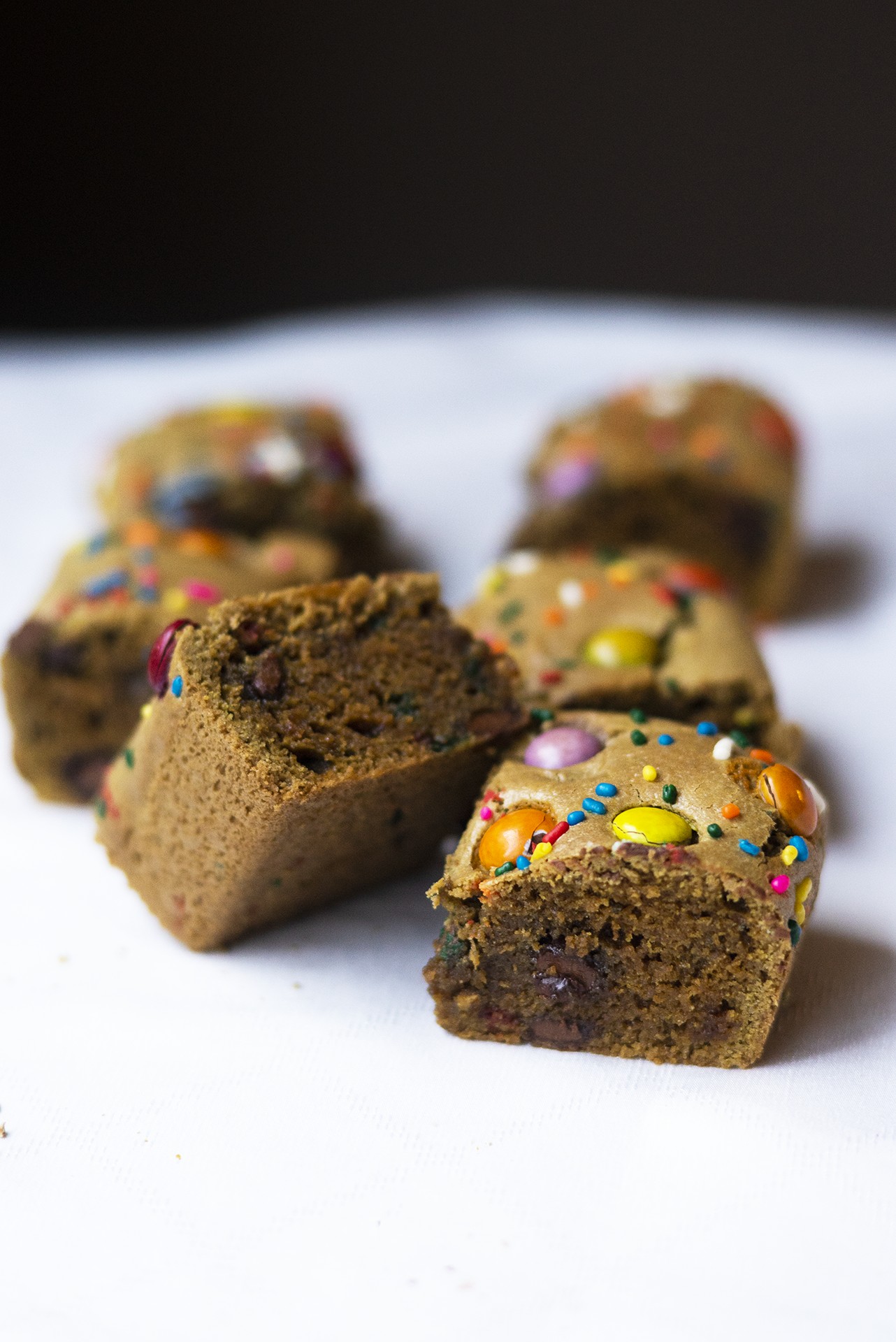 Note: if you're not a fan of edible confetti (i.e. sprinkles!), simply swap out the rainbow bits for chopped chocolate, chips, and/or salted caramel candies.  
Ingredients
1 1/4 cups unsalted sunflower seed butter (~3 1/2 cups hulled sunflower seeds)

1/4 cup maple syrup

2 pasture-raised eggs

1 tsp vanilla extract

1/2 tsp baking powder

Scant 1/4 tsp baking soda

Generous pinch salt

1/2 cup rainbow chocolates, chocolate chips, or roughly chopped semisweet chocolate (I used Unreal's naturally colored chocolate gems)

2-3 tsps rainbow sprinkles!
Instructions
1
Preheat oven to 350 F/176 C. If you're using store-bought sunflower butter, skip to step #3; otherwise, spread 3 1/2 cups of hulled-raw-unsalted sunflower seeds onto a baking tray and bake for ~10-12 minutes, stirring the seeds a couple of times in the process, until they take on a very slight golden hue, and a toasted scent emanates from your oven. Keep a watchful eye during this process as over-toasting them will dry them out, and ruin the final form and flavor of the blondies. Allow the seeds to fully cool (~15 min) before pouring them into your high-powered blender or food processor.
2
Blend on medium for ~3-6 minutes, using the tapering device to push down on the seeds; if using a food processor, you will have to stop it occasionally to scrape down around the sides. This process will feel long, but within ~6 minutes the seeds should spin into a creamy, luscious butter.
3
Measure out 1 1/4 cups of the sunbutter into a large bowl (there will be a little leftover if you went the homemade route). In a separate, small bowl, whisk the eggs with a fork until just combined; add the eggs to the sunbutter, along with the maple syrup and vanilla extract. Sprinkle in the baking soda and powder, and stir until combined. Lastly, mix in a little over half of chocolates, reserving the rest to sprinkle over top.
4
Scrape the mixture into a tin lined with parchment paper, spreading down the top until evenly distributed. Sprinkle over the remaining chocolate (and sprinkles!), and bake for 30-33 minutes, until noticeably puffed up and the top is no longer soft to the touch (an inserted toothpick will still come out a bit gooey, but that's ok!). Allow to cool for a solid 20-30 minutes. The humdrum waiting process is always a bore, but know that it in this case it is truly necessary to allow the blondies to fully set; otherwise, the cutting process is a gooey mess (trust me, my impatience got the best of me once). If it's not already obvious, know that these blondies pair prettily with a glass of crisp, cold milk!
Notes
I used a loaf pan (9x5 inch); know that using a square/brownie pan (~8x8 inch) will likely yield slightly thinner blondies than those pictured above! I was inspired to put this recipe together after stumbling upon the the Almond Eater's birthday cake brownies (which also feature simplicity and colorful sprinkles!)