This granola is a little nutty; "nutty" because it is full of nuts, and by "full" I mean really full.

The 3:1 oat to nut ratio that you ordinarily find in granola recipes has been turned upside down and rattled around.

Thanks to the equal parts oats and nuts, this 'nola is super crunchy and (plant-based) buttery.

If you are A) a granola feign, and B) an avid snacker-of-nuts, this recipe will likely find a special place in your heart to curl up and reside for the rest of eternity.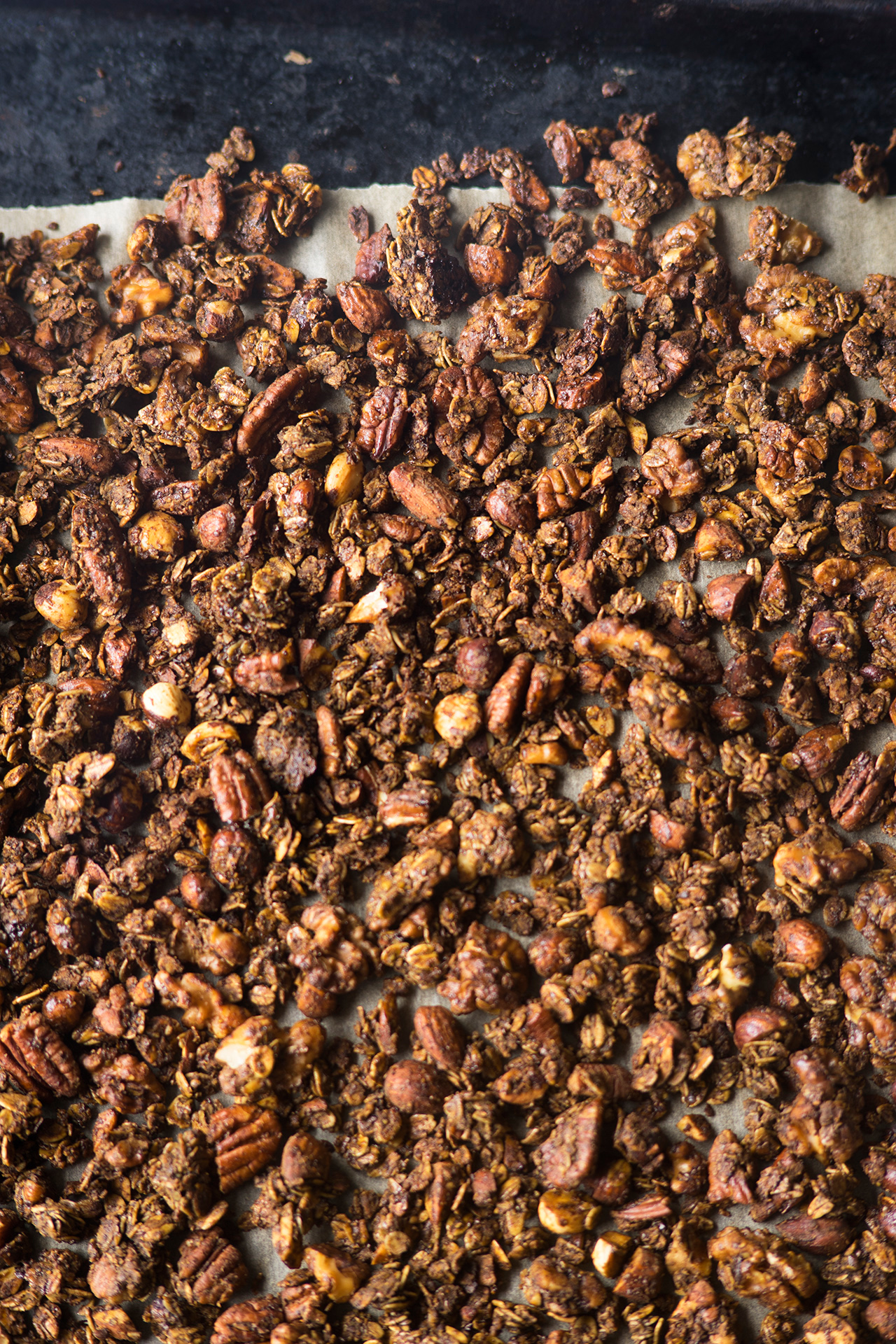 The 50:50 amount of oats and nuts means there is a generous amount of healthy fat packed into each serving. As a result, the usually high amount of oil that is added to granola has been reduced to a mere 2 tbsps.

That's right, there's no need to douse your oats in oil to achieve crunchy, golden granola-galore!
In addition to providing a mountain of richness, the heap of nuts offer a significant amount of nutrients to the mix.

Walnuts are full of brain-healthy Omega-3 fats, and pecans, hazelnuts, and almonds, contain a host of other essential nutrients, ranging from minerals such as magnesium and calcium, to the antioxidant Vitamin E, which works to protect our cells from damage. Not to mention nuts are loaded with gut-friendly fiber!
Obviously, no one loves a sandy mess of a granola (unless, of course, we're talking about the golden flakes of dust at the bottom of a bag; the dregs that offer a delicious, sweet dusting to a bowl of yogurt just when you thought you were all out of toppings).
In order to bypass the shattering, there-are-no-big-chunks-in-my-granola reality, ground flaxseeds are combined with water to make a "flax egg." The mixture acts like a glue, and helps nudge together the loose ingredients into chunkier pieces.
You may find that this recipe is nutty in another sense, too. I didn't pull the breaks on my love of molasses and ginger. In other words, this is a truly "gingerbready" granola recipe.
This recipe does not call for ungodly amounts of golden syrup or granulated sugar. Instead, the bright, gingerbread flavors are given ample room to SHINE!

If the flavor, perhaps simply the sight, of deep, tar-dark molasses gives you goosebumps, fear not. You can easily swap out ~1-2 tbsps of the molasses for more maple syrup (or whatever liquid sweetener you choose to use).
This recipe is not intended to induce molasses nightmares, although I wouldn't be surprised to learn that a river in Hell violently flows with the bitterly sweet, black goo…
Whether you choose to make your own tweaks or not, try not to skimp on the candied ginger bits! They are small, but mightily powerful in flavor, embellishing the granola with bits of sugar-crusted, edible sunshine. If the sun had a flavor, it would undoubtedly be fiery ginger, dontcha think?
Ingredients
1 1/2 cups rolled oats (ensure gf if necessary)

1 1/2 cups mixed raw nuts, such as walnuts, pecans, almonds, hazelnuts,... (I like to roughly chop ~half of the nuts + leave the other half whole, for a bit of variety!)

1/3 cup ground flax seeds + 2 tbsps water

1/4 cup unsulphered molasses (if you aren't a huge molasses fan, replace ~1-2 tbsps with maple syrup for a bit more sweetness)

3 tbsps maple syrup, or other liquid sweetener of choice

2 tbsps olive oil (or other neutral-flavored veggie oil)

1 tsp ground cinnamon

1 tsp ground ginger

Generous dash or two ground cloves

Heaped 1/4 tsp kosher salt (add more to taste)

1/3-1/2 cup candied/crystallized ginger bits
Instructions
1
Preheat oven to 350 F. Stir together the ground flax seeds and water, and set aside to congeal.
2
In a large bowl, combine the oats, nuts, spices, and salt. In a separate, small bowl, whisk together the molasses, syrup, and oil. Drizzle the wet mixture over the dry ingredients in a few batches (this will ensure that the oats/nuts become evenly coated). Finally, pour in the flax "glue," stirring to combine until the resulting mixture is sufficiently stuck-together (if at this point it still appears to dry and crumbly, add a few drizzles of maples syrup as needed).
3
Pour the granola onto a lined baking sheet, and use a sturdy spatula to flatten it as best you can into a single layer (this will help create more large chunks). Bake the granola for ~12 minutes, after which time, remove it from the oven and use a spatula to flip over large sections of the granola sheet (this will inadvertently break it up into smaller chunks). Be sure to spread out the pieces across the whole baking sheet so there is more room for the granola to aerate.
4
Return to the oven for a further ~15 minutes, or until a subtle, spiced molasses smell emanates from the oven, and the granola is no longer wet to the touch (it may seem a little underdone or soft, but it will significantly crisp up as it cools down!). Allow to *fully* cool on the baking sheet (~45 minutes), before storing in a glass container until breakfast or snack time (or perhaps even dinner, because why not?!).