These mousse bars feature one whole can of black beans. Yes, you read that right. Beans. In dessert? Oh yes.
If you've perused healthy-ish food blogs on Instagram or the web, you've likely come across the strange creation that is black bean brownies or cake.
This concoction runs with the same idea of black beans + chocolate (= yum), but instead of calling for eggs and a pre-heated oven, this no-bake, vegan-friendly dessert comes into fruition in the fridge.
This mousse is certainly not traditional mousse. I mean, by golly, there are beans in it! And yet, it still retains the much-loved qualities that make mousse a timeless dessert.

It's rich and chocolatey (you can turn up or down the cacao powder dial according to your bitterness threshold).

It's smooth and creamy (but doesn't require whipping together an inordinate amount of heavy cream and butter).
Also, it's 100% sweetened with dates. Dates! Which are a fruit! Which means this mousse contains both fiber and essential nutrients. (Which is saying a lot more than powdered and granulated sugar, the conventional mousse sweeteners.)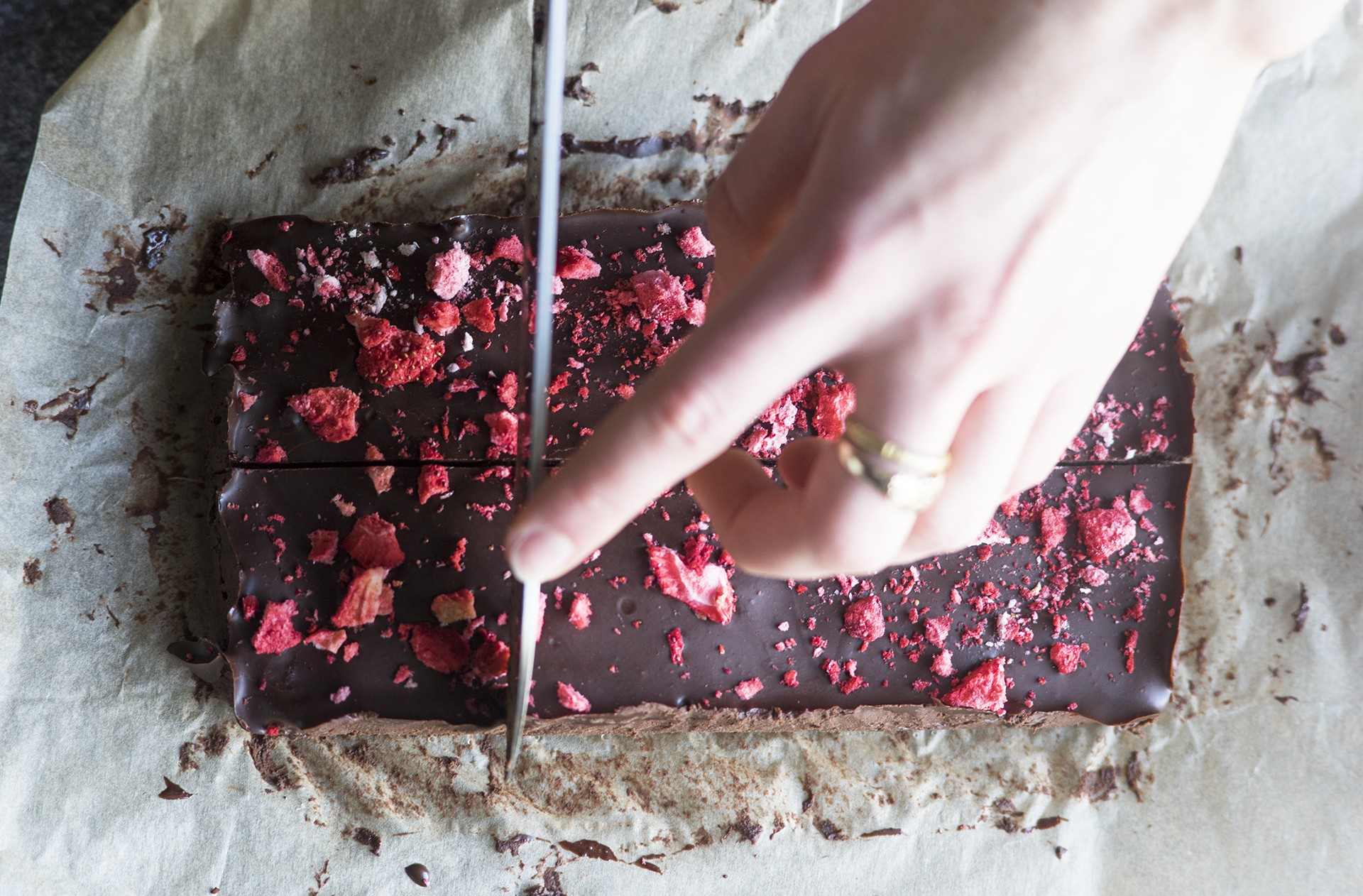 Although this mousse may be far lower in fat than traditional mousse, it is by no means a poster dessert for an anti-fat diet movement.
Adding a few tbsps of melted coconut oil to the mix ensures that the mousse hardens up ever so slightly in the fridge and can be enjoyed in bar form.
If you'd rather eat this mousse out of a bowl or glass, replacing the oil with nut butter would be a perfect way to bypass the oil-hardening that occurs in the fridge, without missing out on the essential (tasty) fats.
Behold: a profoundly chocolatey dessert that doesn't scream "healthy" or "full-of-beans" or "I'm only sweetened with fruit" despite being all of those things (and more)!
Ingredients
Mousse:

1 (15 oz) can black beans, thoroughly rinsed

1 packed cup pitted dates, softened* (deglet noor or medjool will work!)

1/2 cup cacao or cocoa powder (I used an equal mix of both)

3 tbsps coconut oil, melted

2 tbsps date water* (or maple syrup if you'd prefer more sweetness)

1 tsp vanilla extract

Generous pinch or two salt (~1/8 tsp kosher salt)

Dark chocolate layer: 

1/4 cup cacao or cocoa

2 heaping tbsps unsalted almond butter (or other nut butter of choice)

2 tbsps coconut oil, melted

1-2 tbsps maple syrup, or other liquid sweetener (add to taste)

1/4 tsp vanilla extract

Pinch salt
Notes
*I find that store-bought deglet noor dates (and sometimes also medjool) are usually quite dry and tough to blend, so I recommend covering them with hot water for ~10-15 minutes, until noticeably more soft to the touch! Be sure to reserve the date water for blending. *If your dates are already divinely soft and gooey, simply use water or a liquid sweetener in place of the date water (it won't make any difference!). *Made with a standard loaf pan (9x5 inch); if using an ~8x8 inch square pan (or larger) the batter will spread a little out more, so you may want to double the recipe if you're after especially thick bars.